FUJITSU MT P24-8 TE PRO IPS 23.8" matný, 1920x1080, 1000:1, 250cd, 5ms, DP, DVI, DSUB, repro, 2xUSB, V10x10, PIVOT, bílý
Přidat do oblíbených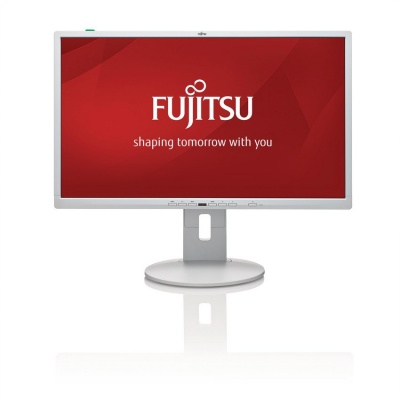 Popis
Parametry
Hlídací pes
Special features

Call and status indicator (in combination with Microsoft Skype for Business), Presence sensor with PC security

solution, In-Plane Switching (IPS) technology, Low blue light mode, DICOM Greyscale Standard Display Function

compatible gamma preset, Color accuracy average DeltaE<2, 4-in-1 Stand, cable guide, Eco button for Eco mode and

3-coloured Eco status LED, Auto Brightness Control (ABC), Workplace Lighting Guide, Auto Pivot, Always available USB

(in operating and standby mode), DisplayView™ IT Suite, 24/7 usage, Integrated speakers

Ergonomic stand

Stand 4-in-1 Stand

Height adjust range 150 mm

Picture height over desk (min) 40 mm

Rotation to portrait 90°

Tilt angle -5° / +35°

Swivel angle 340°

Picture performance

Panel and backlit In-Plane Switching (IPS) technology/LED

Screen Surface Treatment Anti-glare, 3H hard coating

Contrast - typical 1,000:1

Contrast - advanced 20,000,000:1

Response time gray to gray typical 5 ms (in video mode)

Viewing angle (h/v) - typical 178°/178° CR10:1

Color performance 16.7 million colors (Hi-FRC)

Brightness - typical 250 cd/m2

Size and resolution

Aspect ratio 16:9

Diagonal Size 60.5 cm (23.8-inch)

Resolution (native) 1,920 x 1,080 pixel

Resolution (interpolated) 1,680 x 1,050 pixel, 1,440 x 900 pixel, 1,280 x 1,024 pixel, 1,280 x 720 pixel, 1,024 x 768 pixel, 800 x 600 pixel, 640

x 480 pixel

Picture size 527 x 296 mm

Pixel Pitch 0.2745 mm

Frequencies

Horizontal 30 - 82 kHz

Vertical 56 - 76 Hz

Connectivity

DisplayPort 1 x DisplayPort

DVI 1 x DVI-D (HDCP)

VGA/D-SUB 1 x D-SUB

Audio signal output 3.5 mm stereo phone jack for head phone

Audio signal input 3.5 mm stereo phone jack

Audio sound output 2 x 2.0 W

USB downstream 3 x USB 3.0

USB upstream 1 x USB 3.0

Ease-of-use menu

Notes 6 mechanical keys on front side

Direct Access Keys Brightness, ECO, Input, Mode, Audio, Menu

Languages Arabic, Czech, Danish, Dutch, English, Finnish, French, German, Italian, Norwegian, Polish, Portuguese, Russian,

Spanish, Swedish, Turkish, Japanese, Chinese simply, Chinese traditional

Brightness / Contrast Brightness, Contrast, Black level, Auto level, Auto Brightness, ACR, Lighting Guide

Mode D-Mode, sRGB, Office, Photo, Video, Low Blue Light, Custom

Color sRGB, 5000K, 6500K, 7500K, Native, RGB Adjust

Image adjust Clock, Phase, H-Position, V-Position, Expansion

Audio Mute, Volume, Input for HDMI and DP interface, Input for DP interface

?

?

Data Sheet FUJITSU Display P24-8 TE Pro

Page 3 / 5 http://www.fujitsu.com/fts/displays

Information Model name, Serial number, Signal input, Resolution/mode, Display mode , Color Temperature, ACR Status, ABC Status

Advanced settings Presence Sensor, Proximity Adjust, Call Indicator, Overdrive, DDC/CI, Factory Recall

Power consumption (typical, w/o sound)

Soft switch off 0.15 W

Power save mode 0.27 W

Operating with EPA settings 16.1 W

Operating maximum brightness 20 W

Power supply integrated

Power notes Speakers off, without USB

Electrical values

Rated voltage range 100 V - 240 V

Rated frequency range 50 Hz - 60 Hz

Protection class 1

Compliance

Europe Energy Efficiency Class: A, CE certification according to EC Directive 2004/108/EEC, EN 60950, RoHS, WEEE, IT-Eco-

Declaration

Model P24-8T

Germany TÜV GS

Russia EAC

USA/Canada FCC Class B, cTUVus

Australia/New Zealand RCM

South Korea KC#E-Standby

Singapore S-Mark

Taiwan BSMI

China CCC

Saudi Arabia SASO

Global TCO Certified Displays 7.0, ENERGY STAR® 7.0, EPEAT® Gold (dedicated regions) (planned), ISO9241-307 (Pixel fault

class I), TÜV Flicker Free Certified, TÜV Low Blue Light Certified

Compliance link http://globalsp.ts.fujitsu.com/sites/certificates

Quality and Reliability

MTBF (demonstrated) 70,000 h

Dimensions / Weight / Environmental

Dimension without stand (W x D x H) 553 x 63.5 x 330.2 mm

21.77 x 2.5 x 13.00 inch

Dimension with stand (W x D x H) 553 x 229.4 x 347 mm

21.77 x 9.03 x 13.65 inch

Weight (packed) 7.4 kg

16.20 lbs

Weight (unpacked) 5.6 kg

12.35 lbs

Weight (Monitor only) 3.5 kg

7.74 lbs

Operating ambient temperature 5 - 35 °C (41 - 95 °F)

Miscellaneous

Miscellaneous VESA DDC/ CI, Flat Display Mounting Interface VESA MIS-D 100 C, Kensington lock prepared

Color Marble grey

Package content

Display delivered accessories DisplayPort data cable 1.8 m

DVI-D Data cable 1.8 m

Audio cable 1.8 m

USB-cable 1.8 m (USB-A to USB-B)

Power cable for wall socket (Euro-Schuko-Type CEE7) 1.8 m

Quickstart flyer

Safety notes

Display delivered accessories notes Data cables and audio cable detachable on display

?

?

Data Sheet FUJITSU Display P24-8 TE Pro

Page 4 / 5 http://www.fujitsu.com/fts/displays

Order information

Order Code S26361-K1593-V140

EAN Code 4057185609692

Country specific order code BDL:K1593V140-UK - with UK power cable, mandatory for

Arabian countries

BDL:K1593V140-CHN - with China power cable and CEL,

mandatory for China

BDL:K1593V140-ID - with Import label, mandatory for

Indonesia (on demand)

BDL:K1593V140-INT - W/o power cable, mandatory for

countries where import with EU cable is not allowed

Accessories information Further helpful options:

Available Privacy Filters: http://globalsp.ts.fujitsu.com/

dmsp/Publications/public/ds-Privacy-Filter.pdf

Available Adapters: http://globalsp.ts.fujitsu.com/dmsp/

Publications/public/pos-connectivity.pdf

Warranty

Warranty period 3 years (depending on country)

Warranty type Collect & Return Service (depending on country specific requirements)

Warranty Terms & Conditions http://support.ts.fujitsu.com/warranty

Spare Parts availability 5 years after end of product life

Service Weblink http://www.fujitsu.com/fts/services/support
.
Povrchová úprava displeje:
Matný
Rozlišení:
1920×1080 (Full HD)
Úhlopříčka displeje:
23,8"
Aktuální cena produktu je
5108
Kč  s dph